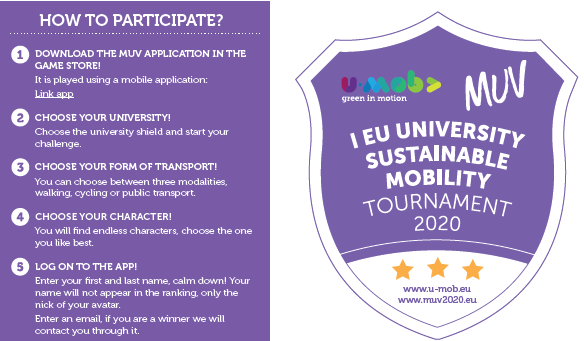 The first edition of the International Tournament between universities on sustainable mobility will take place in the months of March to April. The university will participate in this tournament thanks to its participation in the U·MOB network, it is a project funded by the European LIFE program, it aims to create a network of universities committed to sustainability.
The tournament is promoted in the context of "MUV – Mobility Urban Values", a research project funded by the European Union under the Horizon 2020 program.
To participate, you only need to download the "MUV" application that converts mobility into a sport. The competition will officially begin at the beginning of February and will last a few weeks.
This tournament game mode is the most competitive, but MUV users can play all the time (not just university trips) to improve their individual or challenging performance, the best competitor and the most valuable sustainable mobility university will be invited to pick up an award in Brussels.
Previously the Sustainable City Cup was held with sixteen European cities all very different from each other and specifically interesting for mobility trends and systems. It had an impact on the reduction of CO2 as well as it was reduced by 32% in general and 52% in the university community.
The UMOB-MUV tournament intends to improve urban mobility through an innovative approach that encourages citizens to move in a more sustainable way with a fun game, enriches the relationship between the university and its educational community through values shared, and facilitates in the end the development of new and more effective sustainable mobility policies. With this initiative, the university reaffirms its commitment to sustainability, the environment, and CO2 reduction. With the intention of turning the campus into an area of ​​0 emissions, value awareness methods and changing habits towards more sustainable ones.