U·MOB's Mobility Indicators System
Find out if you are on the right track & get a free awareness campaign for EMW 2021.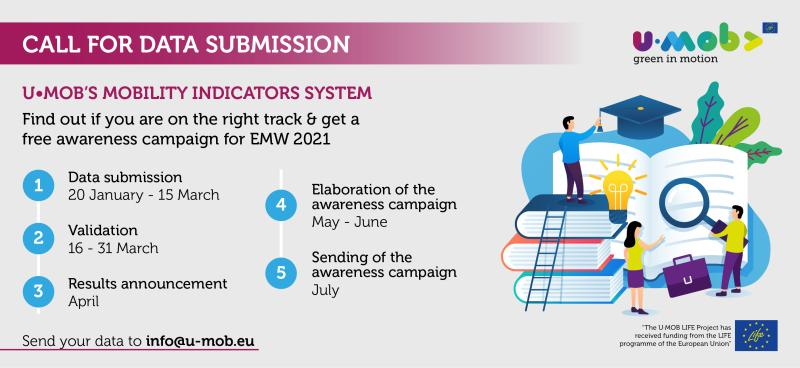 Do you need to improve your university's performance in sustainable mobility?
With our mobility indicator system you can objectively measure your performance and see its evolution over time.
HOW CAN YOU PARTICIPATE?
Every year, in January, interested universities can simply send us their results by filling in an Excel template based on the descriptions shown in this Word document.
If you want to participate, please provide us with the data related to the academic year 2020-2021, specifically the information corresponding to the time of submission of the data.
Send all the information to info@u-mob.eu.
WHAT ARE THE BENEFITS OF THIS INITIATIVE?
To know quantitatively your current performance in sustainable mobility.
To know what the performance of other universities in the U·MOB network is.
To detect opportunities to improve your performance.
To measure the evolution of your performance over time, especially after the implementation of improvement actions.
RESULTS - MOBILITY INDICATORS' CAMPAIGN 2021
A total of 16 member universities have participated in the 2021 Mobility Indicators campaign.
Below you can see the participating universities, which European country they come from and the total score, which you can analyse by clicking on "View details". Note that in some cases the score is given by the different campuses of the university.
The score is not the most important thing, but the fact of starting to measure your performance by means of an objective scale as the first step for the improvement of the mobility in your university. From the U·MOB network we wish everyone's results will improve in the following years. We will repeat this campaign to check this!
The rest of the universities in the network that have not been able to participate in this campaign can still send their mobility indicators during 2021 to info@u-mob.eu.
Although they will not be awarded for being out of time, they can still contribute in order to monitor their progress in sustainable mobility.