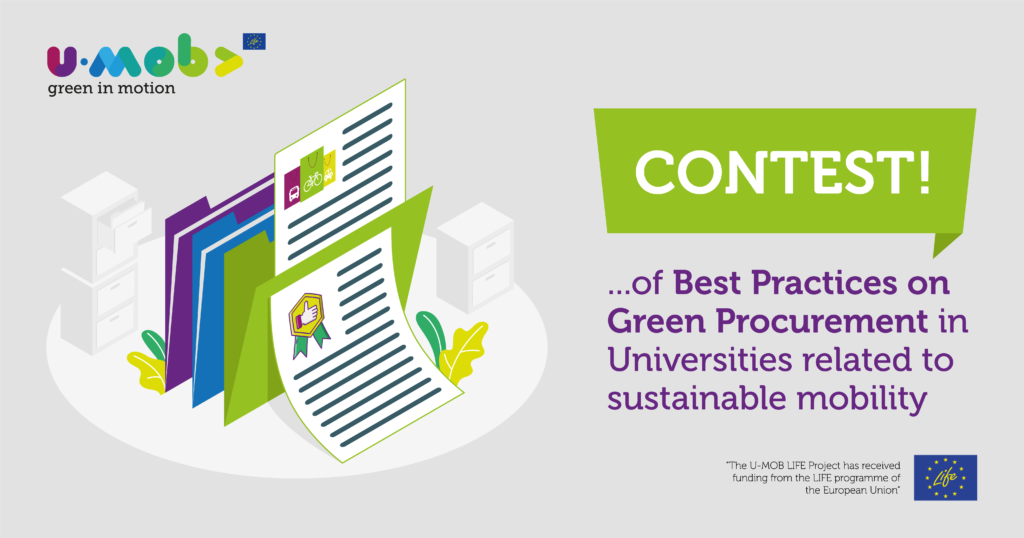 The need for accessing to university campuses and the available transport offer result in intense mobility flows which are one of the aspects compromising environmental, financial and social sustainability in our universities. Aware of that, both public authorities and, especially universities, work for achieving mobility patterns aligned with Sustainable Development Goals defined by United Nations by 2030.
Universities are major consumers of products and services. By using their purchasing power to choose environmentally friendly goods, services and works, they can make an important contribution to sustainable consumption and production. In this sense, Green Procurement is a key tool for promoting environmental and other societal goals.
In this context, European Commission, by means of its LIFE Programme, funds U·MOB project, European University Network for Sustainable Mobility, with the aim of fostering the work among universities to get a more environmentally friendly mobility system, more efficient and socially inclusive.
In the framework of this project, U·MOB consortium launch this contest to award the most remarkable Green Procurement Best Practice related to Sustainable Mobility, implemented in the last years (2017-2020) at a European university campus. The aim of this contest is to boost the exchange of best practices among universities in U·MOB network and to extend the invitation for new universities to join the network.
Send us your best practice by November 30th, 2020, and you will be able to get an award consisting of the production of materials for an awareness campaign with a cost of 2,000 €.