On February 21, in Matera, in the Aula Magna of the University of Basilicata, a seminar will be held entitled "Pedestrian and bicycle mobility in the hilly areas". University of Basilicata is member of U·MOB network since 2019. At this moment we are 74 universities in our Network, and you still have time to join us!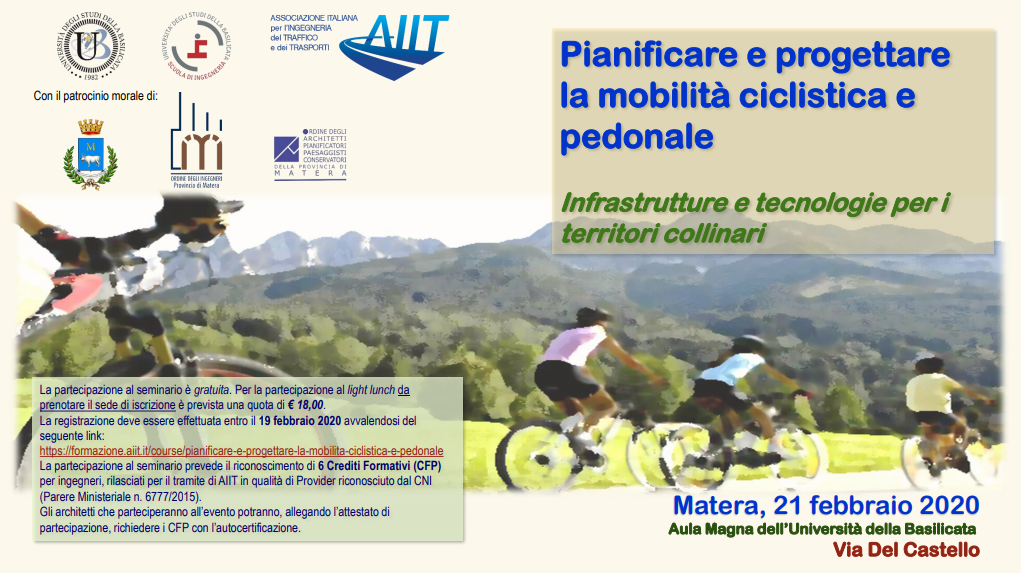 Date: February 21, 2020
Location: Aula Magna University of Basilicata – Via Castello, Matera
Price: Free (EGAF volume for the first 120 members free) – A fee of € 18.00 is payable for participation in the light lunch, to be paid only upon registration
The AIIT association is pleased to invite its members to the seminar Plan and design cycling and pedestrian mobility: infrastructures and technologies for the hilly areas to be held on February 21 in Matera at the Aula Magna of the University of Basilicata.
Planning the mobility of the future also means designing "safe" forms of mobility capable of attracting users to sustainable modes of transport, capable of redeveloping cities and territories. On the other hand, sustainability in the transport sector is a very relevant issue for economic and social repercussions.
This seminar aims to offer the framework for the development of sustainable mobility in Italy, analyzing the measures aimed at achieving high safety standards for "sustainable" forms of mobility, at a time when the protection of so-called vulnerable users (cyclists and pedestrians) is at the center of national and community planning initiatives.
Participating engineers and architects will receive 6 training credits.
To register click HERE.
To view the seminar program click HERE.