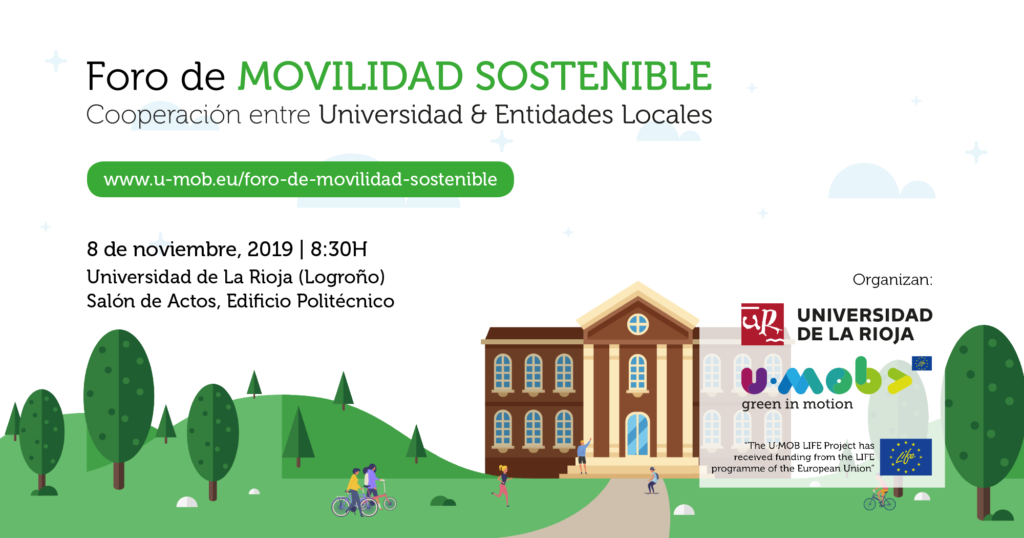 This event is part of the European Project U-MOB LIFE "European Network for Sustainable Mobility at Universities". U-MOB LIFE is a project financed by the LIFE Programme of the European Union which aims at reducing the CO2 emission in European campuses.
Next 8th of November, the I Forum on Sustainable Mobility will take place with the main objective of enhancing the collaboration and cooperation between Universities and Local Entities. This event is organised by the European Project U-MOB LIFE and the University of La Rioja (UR). It will be held in the main Assembly Room of all Universities of the Region of La Rioja in Logroño.
Participation is free upon registration. You can register by clicking the following link, where you can also find the agenda of the event https://u-mob.eu/foro-de-movilidad-sostenible/
A common space for Universities and Local Entities to share knowledge about sustainable mobility
The Forum will be a good opportunity for all kind of stakeholders. It is expected that a wide range of profiles related to the main issue of the Forum will assist. Some of them include Mobility Managers of Spanish Universities, Public Officers and Managers in charge of Sustainable Mobility at regional, local and national level, private entities, transport companies, students and researchers. They are expected to share, debate and show different solutions to become sustainable mobility a reality.
In the introduction of the Forum, different personalities will participate: Julio Rubio García, University Rector of the University of La Rioja, Sonia Hernandez Partal, representative of the Ministry of Public Works and Transport (Ministerio de Fomento), Cristina López from the Mobility Observatory and NOVOTEC, environmental consultancy and leader of the U-MOB project, among others.
Then, different universities will intervene, such as the University of País Vasco, the University of Cantabria and the University of Politècnica of Valencia to show the difficulties they have encountered when cooperating with local entities from their perspective regions and how they tried to solve it.
Also, two Municipalities, in this case the city of Vitoria-Gasteiz and Logroño will tell their experiences of cooperation about sustainable mobility at municipal level. At last, and before the final debate takes places, Beatriz Zúñiga representative of the General Directorate of Traffic will also speak. In addition, a good practice related to social participation to boost sustainable mobility, CiuDADes CuiDADas, will take place.
At the end of the Forum, a debate between participants and the general public will be conducted with a clear topic: Barriers and Facilitators for the cooperation: possible solutions.
U-MOB EU Project
This conference is part of the European project U-MOB LIFE, which began in 2016 and will last for five years – until June 2021. It belongs to the LIFE Programme, the European Union's financial instrument of support for nature and climate preservation and environmental action projects throughout the EU.
The consortium is formed by: NOVOTEC Consultores, consultancy specialized in sustainable mobility and project leader; Fundación Equipo Humano, specialized in training and communication; and the following universities: Universitat Autònoma de Barcelona (UAB), Erasmus Universiteit Rotterdam (EUR), Politechnika Krakowska (PK) and Università degli Studi di Bergamo (UNIBG).